---



Carved in Stone
weathered rock, incised stonework
---



Rose Garden
in real and unreal shades
---



The Southwest
turquoise, terracotta, and silver
---



In Blue
brought to you by the color blue
---



Miscellaneous
the unclassifiable
---
Most of these pieces are offered for sale. Write to the artist for price and availability, or to discuss commissioned pieces.
---
Most of the work in this gallery is done in polymer clay. I've been working with this medium since sometime in 1995, mostly making jewelry and small decorative items. I also use glass and brass beads and wire, but the clay appeals to me because of its protean quality - I can make it look like ivory or jade, like polished handworked glass, like sandstone, or like nothing ever seen on this earth before - and for the pure childish fun of playing with it.
Welcome. I hope you enjoy seeing my work.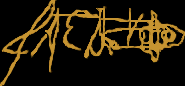 ---

Jeanne A. E. DeVoto jaed@jaedworks.com
Copyright © 1997 Jeanne A. E. DeVoto